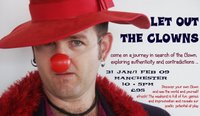 Economic news around the world continues to be grim, and times are tough for the FWBO's Right Livelihood businesses.
It's not all doom and gloom, however – Jayacitta and Red Noses Unlimited continue to find ways to help people "let out their clowns" around the country. Next up is a weekend at the FWBO's Manchester Buddhist Centre, "in search of the clown, exploring authenticity and contradictions", followed by another (in Edinburgh) in March.
Actually, underneath the red noses it's pretty serious stuff – all part of the glorious adventure of bringing Buddhism to the West. To quote from their website -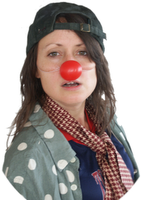 "In this personal and also very comical work, the participants discover their own clown. Not a character one takes on, but a state in which one consciously explores ones own naivety, imbalances and contradictions in order to transform them into the poetry of the ridiculous.
"The state of the clown is one of openness and deep listening to oneself. It allows one to see oneself, others and the whole world afresh and to experience a far wider way of being and greater range of emotion. Letting go of ideas of right & wrong, of shoulds and of control, in discovering the clown inside oneself, one can allow oneself to play again, to experience whatever arises and discover one's own individuality and folly both together.
"…In allowing the clown in some of the exercises to enter the everyday world and work of the participant, we see how he brings his new perspective and a very different way of interacting with colleagues, clients and the task in hand …
Interested? Contact them on
info@rednoses-unlimited.co.uk
Labels: Arts