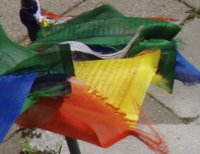 Advayasiddhi from the FWBO's Copenhagen group has written to FWBO News to tell us -
"I'm very happy to let you know that FWBO Denmark had it's first meditation day in Copenhagen this Saturday with 8 people attending. It has taken a lot of work to interest people in meditation and buddhism here in Denmark, so this event felt like a landmark, having people come and engage themselves and -most importantly- continue to practice what they learn.

"As in so many other places in the world, we did the mindfulness of breathing, walking meditation and the metta bhavana, and dedicated the merits of the day to the benefit of all beings.

"We are planning to have a day event in February and March as well, so please spread the word if you know anybody in Denmark.
"We have a website at
www.buddhistmeditation.dk
and you'll find us on
Facebook
too - click the link or go looking for "Buddhistisk Meditation"!
"Yours in the Dharma
"Advayasiddhi
Not far away, in Stockholm, this Saturday sees what may be the first ordination on Swedish soil. The public ordination of Sanna Frost will take place at the
Stockholm Buddhist Center
at 3pm on Saturday 31st January - all welcome! Her private ordination will have been conducted a few days previously on the island of Orno in the Stockholm archipelago.
Labels: Denmark, Dharmaduta