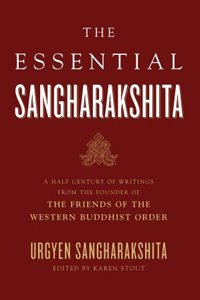 'The Essential Sangharakshita', a major new title showcasing 50 years of Sangharakshita's writings, has just been published by Wisdom Publications. It is available via Windhorse Publications.
Drawing on no less than 38 of Sangharakshita's books, and totalling 792 pages, it's a very substantial resource for anyone interested in his teaching, his life, his poetry, and the Dharmic influences behind the FWBO. In fact, it's a must-buy!
A
full review of the book
is available on FWBO Features.
The book's organising principle is based on the Mandala of the Five Buddhas - the central concerns of Buddhism in the central realm of Vairocana; material on 'Buddhism and the Mind' in the realm of Aksobhya; 'Art, Beauty, and Myth in the Buddhist Tradition' under Ratnasambhava; faith, devotion, friendship and meditation in the Western realm of Amitabha, and finally a lengthy final section on 'Buddhism and the World' in the realm of Amoghasiddhi. A major work indeed.
Vidyadevi, the book's editor, is an Order Member of many years' standing and has lived and breathed the project for much the past 5 years – she told FWBO News that she'd started by re-reading all Sangharakshita's books!
For some, 'The Essential Sangharakshita' will suffice, and may even be the only book of his they ever need. Certainly it is a more-than-adequate introduction to Sangharakshita's thought and teaching – if not to the Friends of the Western Buddhist Order itself. For others, it will be a gateway, a taster, to the 38 works from which it is drawn, even to those not represented, and they will be led through it deeper into Sangharakshita's thought – and perhaps into the spiritual community he has founded and nurtured for he past 40 years.
'The Essential Sangharakshita', ISBN 0-86171-585-3, is available from Windhorse Publications (
www.windhorsepublications.com
) in the UK or Wisdom Publications (
www.wisdompubs.org
) in the US, and Windhorse Books (
www.windhorse.com.au
) in Australia and New Zealand . For other countries please contact your nearest bookstore.
Click here for the
full review
– other reviews are welcome (just email FWBO News) and will be added as received.
Labels: books, Sangharakshita, Windhorse Publications