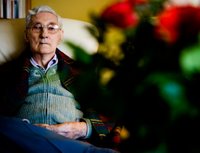 For Saturday's 'people' slot on FWBO News we are happy to feature Sangharakshita once again, and specifically an interview with him on the the subject of 'mindfulness.
As mentioned on FWBO News in November, last year Sangharakshita had an interview published in the Dutch Buddhist magazine 'Vorm en Leegte'.
This was part of an issue of the magazine devoted to mindfulness, and was conducted by Dorine Esser, a mitra from Antwerp, in Belgium.
The interview is now available in English on the
Features section of FWBO News
. Click here to read it...
Some of what Sangharakshita says has been translated from English to Dutch and back again - please bear this in mind when reading it! It covers a wide range of topics – from the importance of mindfulness to our participation in a planet-wide 'higher evolution' – to the value of reading the Pali scriptures and the joy to be derived from classical music and art.

Labels: Belgium, Holland, Mindfulness, Sangharakshita