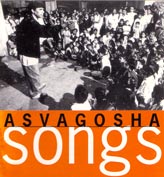 Welcome to the news from
Free
Buddhist
Audio
,
the free download, podcast and streaming service from the Dharmachakra audio and text archives. To receive more regular updates on the site, you can always
subscribe
to our own blog.
If you haven't discovered our free monthly
podcast
yet, then this is a great time to start! Over 10,000 people now subscribe to this service (you can get it easily via
iTunes
), and we've already distributed over 350,000 Dharma talks by podcast since late 2005.
The latest episode of the
podcast
has just appeared online, and this month it's a wee bit different!
This recording of songs
from the Asvagosha project is a real find in the
Archives
.
The Asvagosha project was set up in India in the early 1990s as a way of developing cultural activities among poor 'ex-Untouchable' communities in slums and rural areas. Teams of performers visit the localities and put on performances of sketches and specially composed songs. The shows reflect the concerns that are uppermost in the minds of the people from these communities- issues such as alcoholism, domestic violence, superstition, and child health. The performers bring a level of humour and energy to their performances, ensuring that the messages are conveyed in a straightforward, unpatronising way.
For more on the Karuna Trust's vital work with 'ex-Untouchable' Indian Buddhists, see their
website
.
Dharma Training Course for Mitras - Update
Some important update information for you on the course this week.
–
Corrected versions of Parts 2 and 5 of the Foundation Year
are now available. Please re-download Week 4 of each Part, and the 'Complete' Part files (under the 'All' tab):
Foundation Year
- Two brand new recordings of FWBO puja and chanting, commissioned for the course, are now also online:
Tiratana Vandana
Sevenfold Puja
A lovely new recording of the puja in Sanskrit and English will be posted soon! Stay tuned...