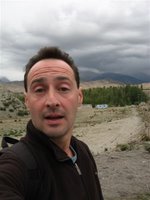 Rijumati, an Order Member from Cambridge UK, has been travelling the world since the end of last year, making every effort to avoid flying. His travels have taken him from the UK by cargo ship to Sri Lanka, across India, to Russia and Japan.
He has now published part 6 of his travel journal, which includes visits to Hiroshima, Kyoto, Honshu, and elsewhere. His travels are often in the spirit and even the footsteps of the great Buddhist Japanese poet Basho. As Rijumati himself writes -
Ah, so wonderful
To meet a friend along the Way
The boats and trains
Grow weary of my solitude.

Part 6 can be accessed
here
, and you can find parts 1-5 on
FWBO Features
.
Labels: Japan, Order events