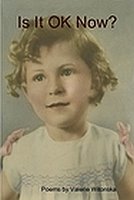 FWBO News normally publishes exactly that – news, but it's hard for mere pieces of news to capture the breadth and depth of people's practice within the FWBO Sangha. We're therefore pleased to offer you a poem, selected from 'Is It OK Now?', a new book of poems by Valerie Witonska (Val Blomfield), an LBC mitra and an experienced poet and playwright.
The poems track her progress through life and her exploration of Dharma practice. Manjusvara writes of them in his Foreword:
'Here are poems of love and poems of laughter. Poems of longing and poems of letting go. Gently funny and carefully wise, I hope they bring you as much pleasure as they have brought me. Let them break your heart and then rebuild it again'.
THE COOL CAVE
You can't stroke me like a horse's back.
I am nothing to do with ghosts.
There are no nativity scenes;
no curves and curlicues of theatre ceilings.
Don't listen for reverberating chords.
Making sense of me won't work.
When you try to look
your eyes swim.
I'm not interested in your stories
about me;
about yourselves.
You may chant into my silence:
I am the space in between the rocks.
'Is It OK Now?' was edited by Val's son Vishvapani and published using
lulu.com
, a print-on-demand service. It's available at
http://www.lulu.com/content/2896553
.