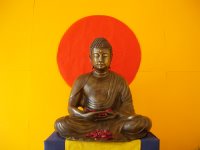 Amogharatna, chairman of the FWBO's Centre in Berlin, (known locally as the
Buddhistisches Tor Berlin
, or the 'Buddhist Gate' of Berlin) has sent us this report on their recent visit by Sangharakshita.
"On 14th July, Bhante arrived in Berlin for a short visit. He was accompanied by his friend Saraha, and they stayed in the men's community. Over the next three days members of the Berlin Sangha enjoyed several opportunities to see Bhante. His programme included going for a short walk each day and meeting individuals as well as a few special events.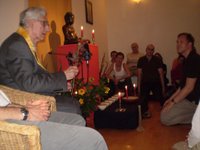 "At the Sangha evening in Buddhistisches Tor Berlin on Tuesday he gave a substantial talk on "The Six Distinctive Emphases of the FWBO", which was translated into German by Dharmapriya. This was a particularly appropriate topic for a Sangha whose members are geographically quite remote from other FWBOs, and the shrine room was filled to capacity with over sixty people. On the same evening he officiated at Peter Hirth's Mitra ceremony. A version of the talk is available
here
from FreeBuddhistAudio.
"On Wednesday afternoon Bhante performed a 'naming ceremony' for Samuel Phillip, Utpalavajri and Akasaraja's recently born son, and in the evening he had dinner with Berlin's men Mitras. On Thursday he had a meeting with Order Members from Berlin in the morning and in the evening had dinner with the women Mitras.
"So it was a busy time for Bhante, much appreciated by the many people who were able to see him, and for which they are all very grateful".
Labels: Berlin, Germany, Sangharakshita