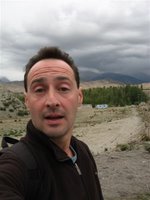 FWBO News is pleased to publish part IV of Order Member Rijumati's travel diaries, as he heads around the world after many year's work in Right Livelihood in Cambridge, UK.
Part IV follows him taking the slow train across the Russian steppes, visiting stupas in the remote datsans of Buryatia, and – after many adventures – taking the Korsakov ferry across the to Japan..
But it's by no means all plain sailing – as he himself begins: "Arriving in Almaty was a shock, an almighty dose of culture shock…"
Click here
to read on…
Labels: Order events, Russia