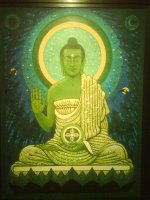 In 2007 the FWBO's
London Buddhist Centre
celebrated the year of Amoghasiddhi, the Green Buddha of Action and Fearlessness.
As part of this they focussed attention on taking practical action to address environmental issues, exploring how Buddhism teaches us to lead a more simple and less wasteful life, more in harmony with the environment.
And as part of that, over the last few months a series of 'environmental audits' have
been carried out in and around the LBC's 'Buddhist Village', covering many of the businesses and
communities that are linked to the LBC as well as the centre itself. They have now produced a report summarising the main findings of those environmental audits – all of which include commitments to action, whether reducing direct environmental impacts, working in partnership with others on environmental issues, or by raising awareness of why and how we can all take action on the environment.
The report can be read in full
here
. Thanks to the LBC for permission to reproduce
Labels: eco-dharma, LBC