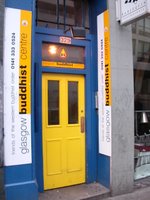 The
Glasgow Buddhist Centre
have launched a new range of courses for the new year – ranging from a "Buddhist Stress-Busting Make-Over" to their new "Stupid Cupid" day retreat – or should that be day-long treat?
They've advertised them with characteristic pizzazz; we found this report in a
local Scottish newspaper
: "If the stresses and strains of the festive season have left you feeling frazzled or your relationship with your nearest and dearest a bit frayed around the edges, make a new start in 2008 with the stress-busting techniques taught at the Glasgow Buddhist Centre. You can stretch your body and soothe your mind at the same time with a six week yoga and meditation course starting on Wednesday 9th January or delve straight into the clearer states of mind brought about by the two meditation practices taught by experienced practitioners on Tuesday evenings starting from the 22nd January. To discover how the teachings of the Buddha can help us deal with modern life, come along on Wednesdays from 23rd January.
And if your relationship needs a rethink before Valentine's Day, book yourself onto the Stupid Cupid Day on Sunday 3rd February and find out how you can stop getting in the way of romance".
The report goes on to point out that the Stupid Cupid day will be co-led by Nagaraja, well-known for being he who gives the Buddhist perspective on the
Pause for Thought
slot on Terry Wogan's BBC Radio Two show - Friday mornings at 9.15am UK time.