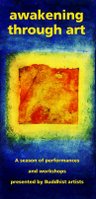 Bristol Buddhist Centre is delighted to be hosting an arts season, under the title of 'Awakening through Art'.
It will run from January to June 2008, and springs from the creative inspiration of Dharmachari Ananda. Ananda (Stephen Parr) is best known as a published poet, a leader of writing workshops (with '
Wolf at the Door
'), who also has the distinction of being the longest-standing member of the Western Buddhist Order. He is particularly keen to explore the relevance of Western myths for today's Dharma practitioners, and there'll be explorations of Mozart's Magic Flute and the Western mystery tradition, Orpheus and the Underworld, and Tristan & Isolde.
Other scheduled activities include a play, written by Dharmachari Alobhin exploring the themes of climate change and peak oil, to be performed under the auspices of '
Transition Bristol
', a shrine photography workshop, an evening of poetry reading, and a workshop on Seeing & Drawing.
In addition to all these, the season's first week opens with three events:
19-20 Jan A Meeting of Minds - performance by Michael Lunts of his 'play with music' based on the life of Rachmaninov
21 Jan The Dharma Significance of an Empty Cosmos – a talk by Brian Johnson, with poetry and astronomical film footage
26 Jan Imagination & Spiritual Life – a talk by Ananda
For more details, see the
Awakening through Art
page on the Bristol Buddhist Centre website.