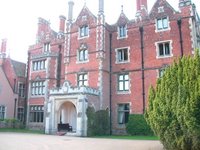 This summer Sangharakshita will be speaking at a major conference, entitled "The British Buddhist Landscape – Transplantation and Growth". Bookings have just opened and all are invited to attend.
The conference is being organised by the Institute of Oriental Philosophy (UK) and the
Network of Buddhist Organisations
(UK), of which the FWBO is an active member.
The dates are the 27th, 28th, 29th June 2008 and the venue is the Sokkai Gakkai headquarters at Taplow Court, near Maidenhead, Berkshire, where the Institute of Oriental Philosophy is based - shown in the photograph.
The aim of the conference is to look at the history and development of Buddhism in the UK from its early days up to the present. It will be suitable for anyone with an interest in Buddhism as well as other religions in the UK, the teaching of religion, as well as social action and ethnic social groups.
Topics will include the History and Development of UK Buddhism, Ethnicity and Buddhism in Britain, Buddhist Scholarship (including areas such as teaching Buddhism in schools and universities and over the internet), Buddhism and Psychotherapy, and Engaging with Society.
The speakers will include Sangharakshita, Stephen Batchelor, Dr. John Peacock, Dr Helen Waterhouse, Ajahn Laow, Prof. Sato, Dr. Peggy Morgan, Colin Ash, Rev Saido, Dharma Shakya, Keith Munnings, and others.
The approximate fee will be £65.00 and attendance for part of the conference is possible, for a reduced fee. Concessionary rates are also available. Please enquire for further information. Latest details will be on the
IOP website
.
Artists and performers are being invited to join us to present their work, please make contact if you would like to be considered.
For further information please contact the conference organiser Jamie Cresswell, Director, IOPUK, tel : UK 01628-591213, email :
jc@iopec.org
Labels: Interbuddhist, Interfaith, Sangharakshita