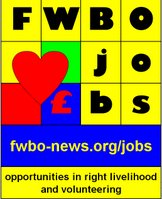 Several new jobs have been posted recently on FWBO Jobs; readers are invited to visit the
FWBO Jobs site
to check. These include posts at Windhorse:Evolution, the FWBO's largest and most successful Right Livelihood business, as well as volunteers needed for the upcoming FWBO International Retreat. In the past three months the site has had over 1,000 visitors from over 30 countries.
There have been significant changes recently to the
FWBO News website
; regular readers who use our Feedblitz news-feed service are invited to take time to visit the site itself.
Among other things three separate search facilities have been added to make it possible to easily find any reference to specific people or events across the FWBO's extensive and somewhat sprawling network of websites. You will find these on the
Resources page
; they cover, respectively, the FWBO News archive;
or
all FWBO centre websites (over 100 to date);
or
the 170+ personal websites listed on
FWBO People
. A rich and, now, very accessible resource!
A tag listing facility has also been added giving one-click access to all stories on particular themes: clicking (for instance) the '
Engaged Buddhism
' tag brings up all previous FWBO News stories on that theme.
We have added two 'volumes' of previous stories from FWBO News, each covering a two-month period and arranged in an easily-printable PDF document form. Taken together they reflect the remarkable diversity of events and projects going on around our Sangha. You can find these too on the
Resources
section of the site; we envisage adding further volumes every couple of months.
Finally, by visiting the site itself you'll also be able to admire our visit counter, which shows the number of visitors and which country they come from – we have had over 10,000 visitors from 99 countries since November…!
Suggestions for further enhancements are of course welcome.