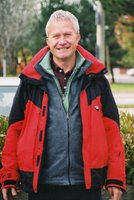 FWBO News is pleased to report on the existence of a small but enthusiastic FWBO group in Toronto, Canada - and the heroic efforts of Harshaprabha to join them. He told FWBO News -
"I first visited the Greater Toronto Area (GTA) in 1998 to attend a wedding - my father having moved there in 1993 to remarry at the age of 73!
"Since 1998 I've visited Ontario on a yearly basis. In 2004 I actually moved to Guelph, Ontario with the view of emigrating to Canada, however my job only lasted 7 months and without any other means of support I was forced to return to Britain and my work as an architect. Whilst in Guelph I developed a good and loyal friendship with a number of people who attended my weekly meditation and Buddhism group.
"These friendships with people from in and around Guelph, Wasaga Beach and Toronto continue to blossom, and I'd like to spend a large part of my year in Ontario working full time to spread the Dharma. The rest of the time I'd be back in Britain or elsewhere in the world with other Buddhist friends.
"I don't know how this can be achieved but I'd very much like it to - it would give a second opportunity for people in Canada to have a regular face-to-face contact with an Order member. The other place is
Vancouver
some 4,000 miles away!
"If you have any ideas or wish to support me then please do
get in touch
.
Labels: Canada, Dharmaduta, Fundraising