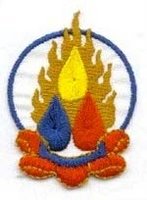 In the course of a women's Going for Refuge retreat amidst the pine forests at
Vimaladhatu retreat centre
, on Thursday 4th October, MARLENE ELTSCHIG from
Berlin
was ordained and given the name DHARMADAKINI (meaning 'Dakini of the Dharma') by her private preceptor Prasadavati. Padmasuri was the public preceptor.
The public ceremony took place on a glorious autumnal day, and, in addition to sangha friends - some of whom had travelled for many hours to attend - her father, her partner and their 4-year old son joined in the celebrations.
Just before that, on Saturday, September 29, two public ordinations took place at
Aryaloka Buddhist Center
in Newmarket, New Hampshire, USA.
Buddy Vaughan became ARJAVA (Aarjava), which is a Sanskrit name meaning direct, sincere, truthful, straight toward a goal, as an arrow in flight.
Dave Carr became BODHANA (no diacritics), a Sanskrit name meaning causing to awaken, arousing (as from sleep), bringing to fullness (as a flower to blossom).
Nagabodhi was Public Preceptor for both and Vidhuma the Private Preceptor.
Peace and good wishes.
Labels: Germany, Ordination, USA