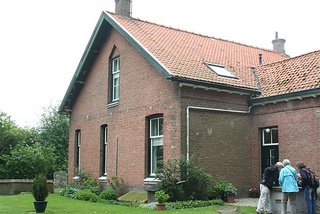 Since 2004 METTA VIHARA, a Dutch FWBO charity started by Akasasuri and others in 2001, has been actively seeking a retreat centre for the FWBO (known locally as the VWBO) in Holland and Belgium. In 2005 the trustees decided to create 'a virtual' retreat centre as a way of demonstrating the projects's viablility to the bank and potential dnors, and this has been an extraordinary success.
Akasasri says "last year and again this year we coordinated, planned and organised all the retreats in Holland and Belgium, running 20-22 retreats a year at 3 different locations spread over both countries. We (she and her friend the newly-ordained Manigarbha) are on all the retreats - we do the shopping, the bookings, the finances, the mail-out's, the PR, the setting-up of the retreats, the cooking, plus co-leading and leading some of the retreats etc. Everything is stored in our living room (mats, cushions, blankets, food, shrine material, etc); we bought a large van to transport everything from our house to the various retreats and back".
And nearly all retreats (but 3) in 2006 were fully booked with a waiting list – a remarkable and heroic achievement. There are 5 order members committed to living at the future retreat centre: Sarojini, Sobhanandi, Khemasiri, Akasasuri and Manigarbha; with nearly all the other Order Members in the Lowlands are involved in some way in attending, leading and co-leading the retreats.
And now they are on the verge of realising their dream – purchasing a property owned by a nature reserve organisation. It's an old farmhouse, built in 1880, about 100 meters from a large estuary, with 5 acres of land, located halfway between the Amsterdam Buddhist Centre and the Ghent Buddhist Centre and easily accessible for the Buddhist Centres from Arnhem, The Hague and Antwerp. See photos of the building
here
.
Akasasuri says "Voices in our local sangha say 'this is THE place' and all are very keen for this to come off. WE ARE READY TO GO - JUST SOME MORE MONEY REQUIRED!
For their appeal they have created a website
www.mettavihara.nl
, have a proper brochure, became a member of the Buddhist Union and advertise in national papers, buddhist magazines and some new-age magazines.
Click
here
for a fuller introduction to the property and the appeal.
Labels: Fundraising, Holland, Metta Vihara, Mettaloka