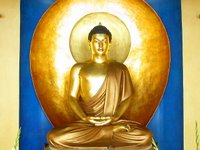 A new website, '
FWBO Discussion
' (www.discussion.fwbo.org), has recently been launched. Building on work done by Vishvapani, it's a collection of articles by members of the Order, with the aim of presenting some of its more internal reflections and discussions, plus various accounts of the main changes in the FWBO and Order over the past decade or so. Vishvapani introduces the site by saying "The Friends of the Western Buddhist Order is a diverse and thoughtful community, whose members frequently debate matters of teaching and issues affecting the FWBO, its history and its future. This debate has often been invisible to non-members, and this site aims to open that debate and reflection to a wider audience."
The site is divided into various sections – '
The Order
', '
Changes
', '
Controversy
', '
Sangharakshita
', '
Gender
', and '
Academic
' (a bibliography of academic articles on us).
Lokabandhu, the current editor of the site, says "I'm very pleased with it, I think it'd be impossible to read it and not conclude that we (the FWBO) is a serious, open-minded, self-aware buddhist community with genuine independence of mind and interest in the truth. Comments welcome of course! I'd like to add to it, so if you have any suggestions please let me know."
Labels: FWBO, Sangharakshita, Vishvapani