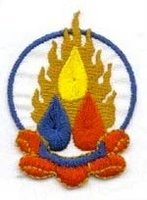 At the Public Ordinations held at 3pm on Friday May 25th at Shambhala in Golden Bay, New Zealand, the following Dharmacharinis were born -
PUBLIC PRECEPTOR VARADEVI
Robyn Blackman becomes KAMALADEVI - pali and skt. "(She who is a) lotus goddess" (long final i) so Kamaladevii
Serena Ann becomes GAMBHIRAJA - skt. "(She who is) born of the depths" (long i and long final a) so Gambhiirajaa
Alison Mann becomes HRDAYAJA - skt "(She who is) heart born" ( dot under r and long final a) so Hrdayajaa
PUBLIC PRECEPTOR DHARMANANDI
Sue Johnson becomes VIRYADANA - skt "(She who) gives energy in pursuit of the good" (long i and long second a and final a ) so Viiryadaanaa.
Victoria Bel becomes BUDDHANKAPALI - skt "(She who is) embraced by the Buddha" (long first a, long final a and dot over the n) so Buddhaankapaali.
Anita Hirshhorn becomes VIDYATARA - skt "(She who is) a protector of spiritual knowledge ( long first, second and final a) so Vidyaataaraa
Jane Beck becomes PADMADASI (She who is a) "Servant of the Lotus" (long final i) so Padmadasii
Maureen Nicholls becomes SARADARSHINI "She who sees/understands/knows the pith or substance or heart (of things) (long first a and long final i) so Saaradarshinii.
SADHU SADHU SADHU!
Labels: Australia, New Zealand, Order events, Ordination, Preceptors.