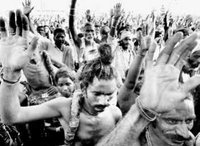 Reports are coming in from India of a new wave of mass conversions to Buddhism, this time in Mumbai. On Sunday over 100,000 people, mostly from the Adivasis or Tribal communities, converted in a massive ceremony at the Mahalaxmi ground. They were mostly followers of Dalit writer Laxman Mane, who has been touring the State after converting to Buddhism in Nagpur in October 2006.
Readers of FWBO News will remember
Vishvapani's reports
of that period, with an account of Mane's conversion and their meeting. He wrote then -
"In a special ceremony at Dikshabhumi in Nagpur yesterday morning, Mane took the three Buddhist refuges along with 140 leaders of tribal communities from across Maharashtra. Following the ceremony they held a planning session in which they agreed to extend the conversion programme to the other members of their communities, who number at least 500,000. …

When I met him just before he left Nagpur, Mane - a short, solidly built man with an air of sturdy determination – told me of the inspiration he and his fellow converts had gained through the ceremony. 'My companions left the ceremony different people from the ones who had started it. They were filled with a new inspiration and confidence. We held a planning meeting straight away, and the atmosphere was different from any we had experienced before, full of hope and determination. It was a sudden, dramatic shift. For myself, I felt a new sense of freedom.'"
The conversions in Mumbai are a direct fruit of last October's events in Nagpur, hopefully one of many. They are being hailed as one of the biggest mass conversions in modern Indian history.
Read the reports from India from
The Hindu
or the
Times of India
. More pictures are in the
Mangalorean Times
.
Labels: Dharmaduta, India, Maharastra, Mumbai