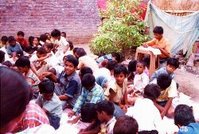 A new iniative by
Bahujan Hitay
social workers has seen 25 children from slum areas around Amravati attending school for the first time in their lives. Most of the children have been prevented from attending school by poverty, they are often forced to work or look after young siblings instead. The school is known locally as an "
open school-mat school
" since, as you can see in the photo, the classes are held in an open area with the children sitting on mats on the ground
Amravati is a district of Maharashtra 150 km from Nagpur, India, where there is a thriving TBMSG Sangha. The school is being funded by the FWBO's aid organisation, the
Karuna Trust
.
Story by Dharmacari Amitayus.
Labels: India