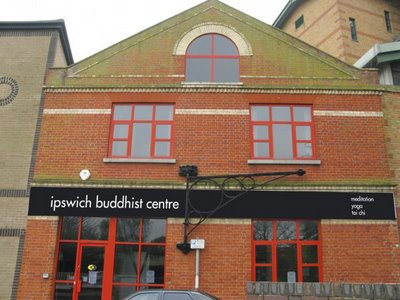 The FWBO's Ipswich Buddhist Centre is gearing up for a GRAND OPENING of their new Centre, scheduled for the Saturday 11th July. They say -
"Every Sangha member is welcome at what we hope will be a very special day, the Opening Ceremony and Dedication of the new Centre performed by the Order's founder, Urgyen Sangharakshita. The provisional programme is as follows:
10.00 Arrive - 10.30 Welcome, Introduction to the Day - 11.30 Short Meditation and Dedication ceremony - 1.00 Lunch - 1.45 Musical interlude - 2.30 Talk - 3.30 Tea and cake - 4.30 Finish
Advayamati gives a bit more detail of what's going on behind the scenes on their
Facebook group
. He says–
"Of course, the main activity at the moment (well, the one most on my mind, anyway!), is the transformation of the new Centre. I'm pleased to say that things are really progressing now. After ages of delay getting Council approval, estimates, and those sorts of things, the work is really underway now. The builders have ripped out the lower flight of stairs and installed a new one, the shell of the disabled toilet is in place under them, the servery units have been assembled and are awaiting the plumbing before being fitted, the upgraded fire system has been wired in, and the lift space is in the process of being opened out. And around all this, of course, a small but valiant band of Sangha volunteers have been ploughing on with the decorating, with the result that the ground floor is virtually complete, and great strides are being made on the first floor. We had a great session upstairs over the weekend, including a very hardworking couple who had only come to the Centre for the first time the previous Tuesday. Still plenty to do, but I do now start to feel that it could be finished in time, just about!"
The address of the new Centre is 4 Friars Bridge Road, Ipswich, and their website is at
www.ipswichbuddhistcentre.com.
Labels: Ipswich