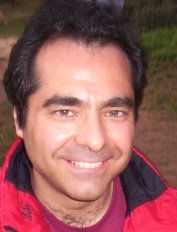 Vajracaksu, the only Order Member living and teaching Dharma in Istanbul, Turkey, writes with news of some recent successes -
"Greetings from Istanbul. I thought I'd keep FWBO News up to date a bit with my mindfulness, meditation and Dharma activities in Istanbul. Since I last wrote about 9 months ago my meditation and meditation & Buddhism courses and events have been attracting significantly more people. There have been a number of small but important developments in my teaching activities.
"I've given my first two full length Dharma talks; also my first "Evoking Kindness" meditation course in both Turkish and English; led a few day retreats and several "Invitation to Silence" sessions of shrine room practice. And for the first time ever I actually have a weekly Sunday morning drop-in meditation class at a health centre called "The Life Co." - mostly I get people who are detoxing/fasting coming to these classes.
"Over the past couple of months more and more openings are emerging for me. For example, just last week I gave a presentation to a foreign women's group called "Corona." The presentation was called, "Meditation: The Natural Healer"; it ended with a lovely period of the mindfulness of breathing. The whole session went down very well I'd say. As per usual I continue to find it a privilege introducing people to mindfulness, meditation and to the Dharma. I continue to be amazed at the subtle power of meditation practice. It often seems like magic to me! In just 20 to 40 minutes people often become peaceful and happy! Magic!
"I have some other happy news to report. In February at last I became Turkey's first accredited Breathworks trainer…I write that with a sense of pride! (See my
profile
on the Breathworks site) At the moment I'm in the middle of leading a "Living Well with Pain & Illness" course which is fully booked. Again it's deeply satisfying to sense and witness people benefiting from the wonderful tools Breathworks offers - not least making use of the simplicity and healing powers of the breath.
"At the moment I'm also leading a 6 week meditation & Buddhism course entitled "The Network of Personal Relationships" which is going very well. Our current 'daily life practice' is to be more aware than usual of the ways people have and do benefit us through their acts of generosity and kindness.
"I'm confident that over the next 6-12 months (if not over the next 5-10 years!) even more people will come along to events I lead. More and more people are hearing about and becoming interested in meditation and I think this trend will continue; even accelerate over the next year or two.
"I thought I'd end this bulletin with a personal write-up one person did following one of the day retreats I led:
"I had been in Istanbul a few months when I googled, "Meditation, Istanbul" and Vajracaksu popped up. Wow, someone from the FWBO was here and they were teaching meditation! It's been hard to keep up my mediation practice as a) I'm not very disciplined and b) I'm not very disciplined. So I was very excited to hear that Vajracaksu was running a meditation day.
On the day I made my way over to Ortakoy on one of the many old ferries that zig zag across the Bosphorous. Vajracaksu's apartment has been converted into a lovely shrine room with a small garden at the back. The other participants had already eaten three raisins mindfully and introduced themselves by the time I arrived. We settled into body awareness which was very relaxing and then a period of the mindfulness of breathing. As there were both Turkish and English speakers, Vajracaksu taught in both languages which was very useful. During the tea break we all got to know each other a bit better. There was a woman who had been in Istanbul for nine years and had lost touch with meditation, there was a Georgian woman from America whose dream it was to meet a Sufi, there was a young Turkish guy who had been passionately meditating by himself for years and there was a Turkish woman who was trying to practice daily.
As usual on these kinds of days everyone was looking to get to know themselves better and get in touch with reality. The atmosphere was lovely and soon everyone bonded over a huge curry cooked by Vajracaksu. At the end of the day, everyone wrote a letter to themselves to remind themselves of what they had learnt. It was a magical day, greatly appreciated by everyone and I hope to attend many more in the future!"
SADHU Vajracaksu!
You can find more details of his classes on his website
www.aydef.com/meditasyon
.
Labels: Breathworks, Turkey