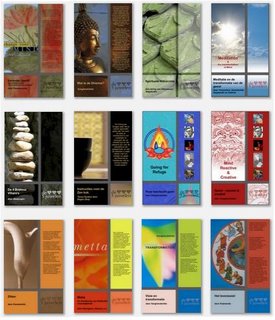 Bart Van den Berghe, from the FWBO's Dutch Sangha, has sent us this report on 'The 3 Jewels', their on-line Dharma translation project -
"The Three Jewels (
de 3 juwelen.org
) is a Dutch-Flemish translation project.
"Texts from Bhante Sangharakshita and other FWBO sources (and ocasionally a non-FWBO text) are being translated into Dutch by language-loving members of the FWBO's lowland sanghas. The aim of the '3 Jewels project' is to make Dharma texts accesible to Dutch non-english speaking readers and inspire them to practice the Dharma.
"The texts can be freely downloaded from the website or bought in printed format at production cost from the different buddhist centres in the Lowlands. Of course we encourage people to support or work and consider a
donation
to enable us to do more and better.
"Right now 14 texts have been translated from English, including '
the ten pillars
', '
what is the Dharma
', '
change your mind
' and '
vision and transformation
'.
"In the pipeline are texts like 'the guide to the Buddhist path' and 'what is the sangha' that will soon be available for download on the website.
Labels: Holland, Translations