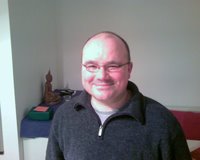 Sraddhabandhu, co-founder of the FWBO's new centre in Düsseldorf, Germany, has told FWBO News -
"Success has come quickly for our new group. Just one year after its opening
FWBO Düsseldorf
has celebrated its first Mitra ceremony.
"Sven Fischer, aged 45, father of three (photo shown), decided to take refuge in the context of the FWBO. This was on the first anniversary of the Düsseldorf centre. For this 20 people came, four of them from the Zen group with which we share the rooms. Dayanidhi from Essen led the Mitra ceremony and the Puja, Sraddhabandhu did the rejoicing in Sven's merits. A special treat was the reciting of the Heart Sutra in old Japanese, carried out by the Zen group.
"The sangha in Düsseldorf is thriving, next on our list of things we want to do is start a regular Dharma study group".
Meanwhile FWBO activities have also begun in South Germany, in the town of Freiburg, where two Dharmacharinis, Suchimansa and Padumachitta, have begun weekly activities in a rented room. There's an interesting story behind this, which we hope to bring you soon…
Labels: Dusseldorf, Germany